Smoker Craft Boat Trailers
Starcraft V-Hull
| | | | | | | | |
| --- | --- | --- | --- | --- | --- | --- | --- |
| Starcraft V-Hull Model | TrailMaster Model | Frame Size | Type | Axles | Capacity | GVWR | Tires |
| Fishmaster 196 | STFM1955BBR | 2″x4″ | Premium | Tandem | 5500 | 6500 | 205/75R14C |
| Fishmaster 196 | STFM2040BR | 2″x4″ | Premium | single-BR | 4000 | 5000 | 225/75R15D |
| Fishmaster 210 | STFM2055BBR | 2″x4″ | Premium | Tandem | 5500 | 6500 | 205/75R14C |
| Pro Troller 16 | STPT1615 | 2″x3″ | Value | single | 1500 | 1900 | 530X12C |
| Pro Troller 16 | STPT1622 | 2″x3″ | Premium | single | 2200 | 2700 | 175/80R13D |
| Renegade 168 | STRG1622 | 2″x3″ | Premium | single | 2200 | 2700 | 175/80R13D |
| Select 160 | SYSE1615 | 2″x3″ | Value | single | 1500 | 1900 | 530X12C |
| Select 160 | SYSE1622 | 2″x3″ | Premium | single | 2200 | 2700 | 175/80R13D |
| Starfish 176 | STSF1724 | 2″x3″ | Premium | single | 2400 | 2960 | 175/80R13D |
| Stealth 166 | STST1622 | 2″x3″ | Premium | single | 2200 | 2700 | 175/80R13D |
| STX 2050 | STSX2055BBR | 2″x4″ | Premium | Tandem | 5500 | 6500 | 205/75R14C |
| STX Viper 186 Fiberglass | STX1940BR | 2″x4″ | Premium | single-BR | 4000 | 5000 | 225/75R15D |
| STX Viper 206 Fiberglass | STVT2055BBR | 2″x4″ | Premium | Tandem | 5500 | 6500 | 205/75R14C |
| Super Fisherman 176 | STSFM1724 | 2″x3″ | Premium | single | 2400 | 2960 | 175/80R13D |
| Super Fisherman 186 | STSFM1824 | 2″x4″ | Premium | single | 2400 | 2995 | 205/75R14C |
| Super Fisherman 186 | STSFM1829BR | 2″x4″ | Premium | single-BR | 2900 | 3500 | 205/75R14C |
| Titan 186 | STTN1824 | 2″x4″ | Premium | single | 2400 | 2995 | 205/75R14C |
| Titan 186 | STTN1829BR | 2″x4″ | Premium | single-BR | 2900 | 3500 | 205/75R14C |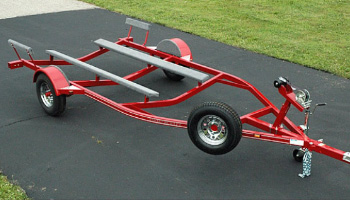 Smoker Craft V-Hull
| | | | | | | | |
| --- | --- | --- | --- | --- | --- | --- | --- |
| Smoker Craft V-Hull Model | TrailMaster Model | Frame Size | Type | Axles | Capacity | GVWR | Tires |
| Bass & Pro Bass 171 | SMBA1724 | 2″x3″ | Premium | single | 2400 | 2960 | 175/80R13D |
| Explorer 172 | SMEX1724 | 2″x3″ | Premium | single | 2400 | 2960 | 175/80R13D |
| Explorer 182 | SMEX1824 | 2″x4″ | Premium | single | 2400 | 2995 | 205/75R14C |
| Explorer 182 | SMEX1829BR | 2″x4″ | Premium | single-BR | 2900 | 3500 | 205/75R14C |
| Millentia 172 | SMMI1724 | 2″x3″ | Premium | single | 2400 | 2960 | 175/80R13D |
| Millentia 192 | SMMI1930BR | 2″x4″ | Premium | single-BR | 3000 | 3700 | 215/75R14C |
| Pro Angler 161/162 | SMPA1615 | 2″x3″ | Value | single | 1500 | 1900 | 530X12C |
| Pro Angler 161/162 | SMPA1622 | 2″x3″ | Premium | single | 2200 | 2700 | 175/80R13D |
| Pro Angler 172 | SMPA1724 | 2″x3″ | Premium | single | 2400 | 2960 | 175/80R13D |
| Pro Angler XL 161/162XL | SMPX1622 | 2″x3″ | Premium | single | 2200 | 2700 | 175/80R13D |
| Pro Angler XL 171/172XL | SMPX1724 | 2″x3″ | Premium | single | 2400 | 2960 | 175/80R13D |
| Pro Angler XL 182XL | SMPX1824 | 2″x4″ | Premium | single | 2400 | 2995 | 205/75R14C |
| Pro Angler XL 182XL | SMPX1829BR | 2″x4″ | Premium | single-BR | 2900 | 3500 | 205/75R14C |
| Pro Camp 160/161 | SMPC1615 | 2″x3″ | Value | single | 1500 | 1900 | 530X12C |
| Pro Camp 160/161 | SMPC1622 | 2″x3″ | Premium | single | 2200 | 2700 | 175/80R13D |
| Pro Mag 162 | SMPMX1615 | 2″x3″ | Value | single | 1500 | 1900 | 530X12C |
| Pro Mag 162 | SMPMX1622 | 2″x3″ | Premium | single | 2200 | 2700 | 175/80R13D |
| Pro Mag 172 | SMPM1724 | 2″x3″ | Premium | single | 2400 | 2960 | 175/80R13D |
| Pro Mag 182 | SMPM1824 | 2″x4″ | Premium | single | 2400 | 2995 | 205/75R14C |
| Pro Mag 182 | SMPM1829BR | 2″x4″ | Premium | single-BR | 2900 | 3500 | 205/75R14C |
| Resorter 151 | SMRE1512 | 2″x3″ | Value | single | 1200 | 1600 | 530X12C |
| Ultima 172 | SMUL1724 | 2″x3″ | Premium | single | 2400 | 2960 | 175/80R13D |
| Ultima 182 | SMUL1824 | 2″x4″ | Premium | single | 2400 | 2995 | 205/75R14C |
| Ultima 182 | SMUL1829BR | 2″x4″ | Premium | single-BR | 2900 | 3500 | 205/75R14C |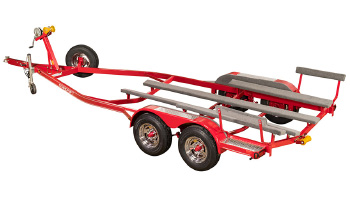 Starcraft Fiberglass
| | | | | | | | |
| --- | --- | --- | --- | --- | --- | --- | --- |
| Starcraft Fiberglass Model | TrailMaster Model | Frame Size | Type | Axles | Capacity | GVWR | Tires |
| Limited Deck Boat 1915 OB | ST1940BR | 2″x4″ | Value | single-BR | 4100 | 5080 | 225/75R15D |
| Limited Deck Boat 1915 OB | STT1955BBR | 2″x4″ | Premium | Tandem | 5500 | 6500 | 205/75R14C |
| Limited Deck Boat 2000 IO | ST2041BR | 2″x4″ | Value | single-BR | 4100 | 5080 | 225/75R15D |
| Limited Deck Boat 2000 IO | STT2055BBR | 2″x4″ | Premium | Tandem | 5500 | 6500 | 205/75R14C |
| Limited Deck Boat 2000 OB | ST2041BR | 2″x4″ | Value | single-BR | 4100 | 5080 | 225/75R15D |
| Limited Deck Boat 2000 OB | STT2055BBR | 2″x4″ | Premium | Tandem | 5500 | 6500 | 205/75R14C |
| Limited Deck Boat 2009 OB | ST2041BR | 2″x4″ | Value | single-BR | 4100 | 5080 | 225/75R15D |
| Limited Deck Boat 2009 OB | STT2055BBR | 2″x4″ | Premium | Tandem | 5500 | 6500 | 205/75R14C |
| Limited Deck Boat 2410 OB | STT2458BBR | 2″X5″ | Premium | Tandem | 5800 | 7400 | 215/75R14C |
| Limited Runabouts 172 OB Sport | STV1724 | 2″x3″ | Value | single | 2400 | 2995 | 175/80R13D |
| Limited Runabouts 172 OB Sport | STV1730BR | 2″x4″ | Value | single-BR | 3000 | 3700 | 215/75R14C |
| Limited Runabouts 185 IO Sport | ST1731BR | 2″x4″ | Premium | single-BR | 3000 | 3700 | 215/75R14C |
| Limited Runabouts 185 IO Sport | ST1824 | 2″x4″ | Premium | single | 2400 | 2995 | 205/75R14C |
| Limited Runabouts 185 IO Sport | STV1824 | 2″x4″ | Value | single | 2400 | 2995 | 205/75R14C |
| Limited Runabouts 1918 IO | ST1930BR | 2″x4″ | Premium | single-BR | 3000 | 3700 | 215/75R14C |
| Limited Runabouts 1918 IO | STV1930BR | 2″x4″ | Value | single-BR | 3000 | 3700 | 215/75R14C |
| Limited Runabouts 195 IO Sport | ST1831BR | 2″x4″ | Premium | single-BR | 3000 | 3700 | 215/75R14C |
| Limited Runabouts 195 IO Sport | ST1924 | 2″x4″ | Premium | single | 2400 | 2995 | 205/75R14C |
| Limited Runabouts 195 IO Sport | STV1924 | 2″x4″ | Value | single | 2400 | 2995 | 205/75R14C |
| Limited Runabouts 2018 IO | ST1830BR | 2″x4″ | Premium | single-BR | 3000 | 3700 | 215/75R14C |
| Limited Runabouts 2018 IO | STV1830BR | 2″x4″ | Value | single-BR | 3000 | 3700 | 215/75R14C |
| Limited Runabouts 2119 IO | RST1941BR | 2″x4″ | Premium | single-BR | 4100 | 5080 | 225/75R15D |
| Limited Runabouts 2119 IO | RSTV1941BR | 2″x4″ | Value | single-BR | 4100 | 5080 | 225/75R15D |
| Limited Runabouts 2321 Cuddy | RSTT2258BBR | 2″X5″ | Premium | Tandem | 5800 | 7000 | 215/75R14C |
| Limited Runabouts 2321 IO | RSTT2258BBR | 2″X5″ | Premium | Tandem | 5800 | 7000 | 215/75R14C |
| MDX 190/191 OB | STMDX1940BR | 2″x4″ | Value | single-BR | 4100 | 5080 | 225/75R15D |
| MDX 190/191 OB | STMDX1955BBR | 2″x4″ | Premium | Tandem | 5500 | 6500 | 205/75R14C |
| MDX 201 IO | STMDX2041BR | 2″x4″ | Value | single-BR | 4100 | 5080 | 225/75R15D |
| MDX 201 IO | STMDX2055BBR | 2″x4″ | Premium | Tandem | 5500 | 6500 | 205/75R14C |
| MDX 210/211 OB | STMDXE2041BR | 2″x4″ | Value | single-BR | 4100 | 5080 | 225/75R15D |
| MDX 210/211 OB | STMDXE2055BBR | 2″x4″ | Premium | Tandem | 5500 | 6500 | 205/75R14C |
| SCX 200 OB IO | STCSX1955BBR | 2″x4″ | Premium | Tandem | 5500 | 6500 | 205/75R14C |
| SCX 201 OB IO | STCSX1955BBR | 2″x4″ | Premium | Tandem | 5500 | 6500 | 205/75R14C |
| SCX 220 OB IO | STCSX2055BBR | 2″x4″ | Premium | Tandem | 5500 | 6500 | 205/75R14C |
| SCX 240 OB IO | STCSX2458BBR | 2″X5″ | Premium | Tandem | 5800 | 7400 | 215/75R14C |
| Star Step Deck Boat SS220 IO | SST2041BR | 2″x4″ | Value | single-BR | 4100 | 5080 | 225/75R15D |
| Star Step Deck Boat SS220 IO | SSTT2055BBR | 2″x4″ | Premium | Tandem | 5500 | 6500 | 205/75R14C |
| Star Step Deck Boat SS221 IO | SST2041BR | 2″x4″ | Value | single-BR | 4100 | 5080 | 225/75R15D |
| Star Step Deck Boat SS221 IO | SSTT2055BBR | 2″x4″ | Premium | Tandem | 5500 | 6500 | 205/75R14C |
| Star Step Deck Boat SS229 OB | SSTT2255BBR | 2″x4″ | Premium | Tandem | 5500 | 6700 | 205/75R14C |
| Star Step Deck Boat SS241 IO | SSTT2255BBR | 2″x4″ | Premium | Tandem | 5500 | 6700 | 205/75R14C |
Table Legend
BR = one axle brake   BBR = two axle brakes   BBBR = three axle brakes
State Brake Laws
Most state brake laws require brakes on all axles on trailers with a GVWR of 3000#'s and greater. Dealers are responsible for correct model selection insuring proper capacity and compliance with state brake laws.  
Note:
Some photos may show optional equipment.
Interested in becoming a
Trailmaster

/

Vanguard

dealer?
J.Q. Tex, Inc.
Established in 1979, J.Q. Tex, Inc. is the Midwest's leading custom boat trailer manufacturer. The custom designed fully welded bunk trailers accommodate boats from 12' to 48' in length with carrying capacities ranging from 1000#'s to 20,000#'s. We offer both "C" channel and box tube construction in the Trailmaster line. The top of the line Vanguard tube trailers includes many premium features. Our family owned and operated firm is committed to building boat trailers of superior quality and value.